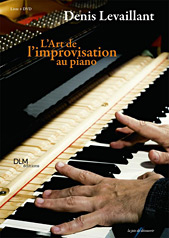 My new book-DVD, devoted to the
Art of Improvisation at the Piano
, is now
available (in French).


Originating from a commission of the Ile de France region, it sums up the main part of the contents of my master class for piano teachers, which started in 2011 in Paris. I filmed more than forty examples at the piano. The images are by Nelson Castro. You can watch three of those on Youtube:


If this excerpt pleases you, thank you for sharing. I shall be delighted to receive your comments.

You can download the contents (.pdf in French)